Why use an eportfolio in your course or program?
EPortfolio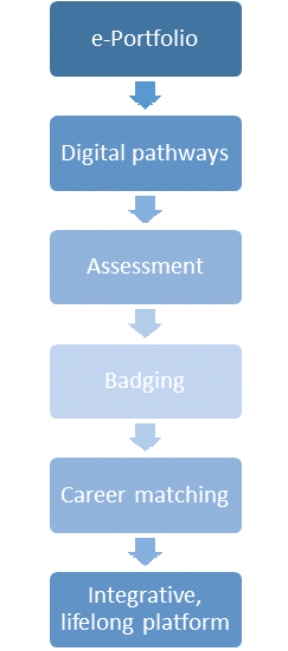 An ePortfolio, such as the one provided through Portfolium, serves many purposes. Portfolium provides a platform to develop an ePortfolio that showcases work and integrates reflections. Because Portfolium is integrated in HuskyCT, assignments administered in HuskyCT can be easily incorporated into Portfolium. The National Association of Colleges and Employers (NACE) has defined competencies essential to career readiness. These competencies are:
Critical Thinking/Problem Solving: Exercise sound reasoning to analyze issues, make decisions, and overcome problems.
Oral/Written Communications: Articulate thoughts and ideas clearly and effectively in written and oral forms to persons inside and outside of the organization. The individual has public speaking skills and is able to express ideas to others.
Teamwork/Collaboration: Build collaborative relationships with colleagues representing diverse cultures, races, ages, genders, religions, lifestyles, and viewpoints. The individual is able to work within a team structure, and can negotiate and manage conflict.
Digital Technology: Leverage existing digital technologies ethically and efficiently to solve problems, complete tasks, and accomplish goals, along with adapting to new and emerging technologies.
Leadership: Leverage the strengths of others to achieve common goals; use interpersonal skills to coach and develop others; assess and manage his/her emotions and those of others; use empathetic skills to guide and motivate; and organize, prioritize, and delegate work.
Professionalism/Work Ethic: Demonstrate personal accountability and effective work habits, understand the impact of non-verbal communication on professional work image, demonstrates integrity and ethical behavior, acts responsibly with the interests of the larger community in mind, and is able to learn from mistakes.
Career Management: Identify and articulate one's skills, strengths, knowledge, and experiences and identify areas necessary for professional growth. The individual is able to navigate and explore job options, understands and can take the steps necessary to pursue opportunities, and understands how to self-advocate for opportunities in the workplace.
Global/Intercultural Fluency: Value, respect, and learn from diverse cultures, races, ages, genders, sexual orientations, and religions.
Many of these competencies are not directly developed or measured in college courses. Even if these competencies are indirectly developed, they may not be directly measured. An ePortfolio provides students the opportunity to demonstrate the achievement of these competencies through artifacts and reflections. In a competitive job market, an ePortfolio, particularly a well-designed and developed ePortfolio, can set students apart from other job applicants. The American Association of Colleges and Universities' (AACU) paper entitled It Takes More than a Major: Employer Priorities for College Learning and Student Success states that "more than 4 in 5 employers say an electronic portfolio would be useful to them in ensuring that job applicants have the knowledge and skills they need to succeed in their company or organization."
Digital badges and pathways
Portfolium offers digital badges and pathways. A badge provides a visual representation of the competencies and achievements that an individual has attained. The use of badges can motivate students along a pathway as it shows them where they have been, where they are, and where they are going in their learning. After faculty or programs define the badge, Portfolium can automatically provide students with achieved badges on their ePortfolio. Badges can be created as markers of competency, accomplishment, event attendance or participation, or organization involvement. You can also provide badges as part of a pathway, such as career readiness, general education, leadership development, or first year transitions. A pathway is a route or journey students travel to earn a badge. On this journey, students are prompted to reflect on experiences and submit evidence of skills mastery. Adding pathways to a course or program prompts students to articulate and demonstrate skills. Because a pathway has defined learning objectives and a rubric for assessing, faculty or programs can easily demonstrate student achievement of learning objectives as part of their teaching portfolio or to accreditors.
Assessment
Portfolium also offers assessment functionality. This allows faculty or programs to link course or program level learning objectives with student assignments, ensuring that each learning objective is assessed and providing reporting on the achievement of learning objectives. Integration with HuskyCT allow assignments from HuskyCT to post on Portfolium and document achievement of learning outcomes. Reporting functionality provides in depth data and visualization of achievement of learning outcomes at course, program, or institution level.